Phở: A Love Story
I am devastatingly, enchantingly in love with phở. The Vietnamese rice noodle dish has bewitched me body and soul. I was first introduced to this sublime delight by my significant other, Vu, who is Vietnamese-American, and somewhat of a connoisseur of all things phở. In our time, we have frequented many phở joints together, and from my travels I have surmised the stats of a perfect bowl. Phở is something of a national treasure in Vietnam, and has been steadily gaining notoriety in the US since it was brought over to America after the Vietnam War. In the States, the best places for an authentic bowl are those that make only phở, rather than larger restaurants distracted by cooking other things. Your best bet for a bona fide bone soup is found at any Pho 75 or Pho Royal.
Phở is a breakfast food in Vietnam, which makes sense when you encounter the awakening effects of the warm broth. A big, bright bowl is like aromatherapy; it envelopes my whole being with warmth. The soup itself is light, balanced, and quite rich. It is complex. It is not to be simplified.
For the uninitiated, phở (pronounced "fuh") is a beef or chicken bone broth soup, with rice noodles, toasted spices, and green leafy garnishes. Endless iterations on the same theme exist: rice noodles in a beef or chicken broth, seasoned with ginger, shallots, fish sauce, black cardamom, cloves, cinnamon, and star anise. Other popular additions are cilantro, pickled onions, and pepper. Most popular are phở ga (chicken) and phở bac/ tai chin (beef).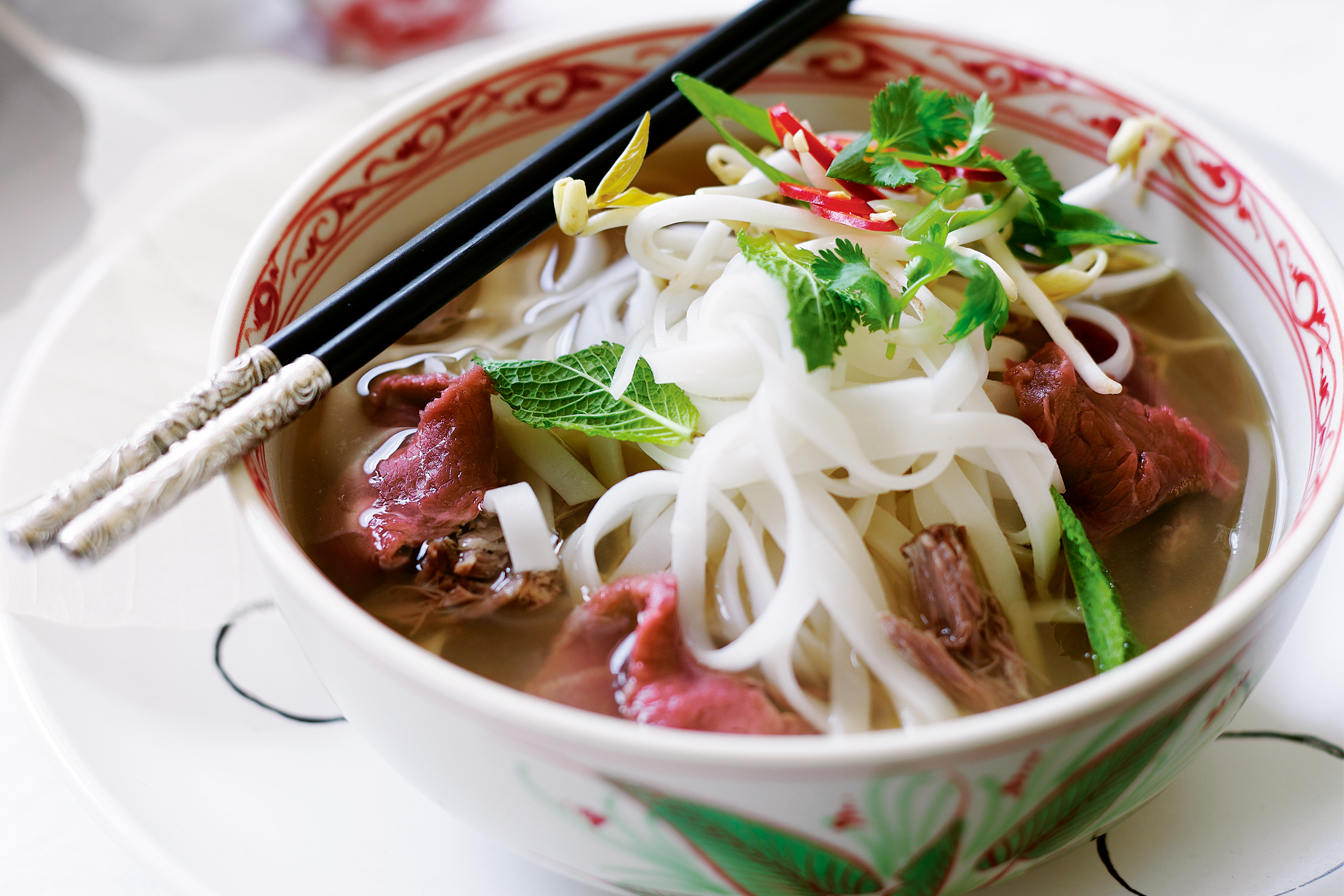 (above: phở tai chin)
By far the best feature of the phở is its stock. The broth is a carefully assembled work of art, layered with spices and simmering for hours before enjoying.
Here's my foolproof guide to enjoying your first bowl of phở:
First, when your bowl arrives at your table, take in the steam. And then the first sip, slowly. After your bowl is brought to you, your server brings also a big plate of greens: mint, cilantro and saw leaf over mung bean sprouts, and lime. I take a sip at each stage of adding these ingredients, savoring each new flavor.
With Vu, our phở meals are quiet, focused affairs, as we each render our bowls differently with additions brought to the table. We always ask for extra limes, but I never include the suggested jalapenos. He eats his bowl opaque, a deep rust color. I begin eating mine clear at first, how the broth arrives, and throughout the meal the soup encounters a steady progression of depth in color from my added seasoning, a pursuit to achieve spicier depths. Too much sriracha or hoisin sauce will cloud the broth, but a spoonful of each will improve it.
I have never encountered a bad bowl, only a lesser bowl. I have my handful of favorite spots in the DC-metro area, but I maintain that the absolute best is made by Vu's mother, Chau. Her recipe has been made perfect with years of personal additions and adjustments that simply outshine any restaurant batch of broth. Her recipe, like all of the best ones, is known only to her.
On Saturday nights, we drive back to our hometown to have dinner with Vu's mother. There is always too much too eat, which I love. We enter to find a counter top spread with several things at once, a veritable feast for three, with all of the best sauces and garnishes, and chopsticks, and maybe a fork for me. The best nights are when there's phở, of course.
After eating, we watch Vietnamese television, which is my new favorite thing. Lately I have been really into the Vietnamese version of Dancing with the Stars, called Bước nhảy hoàn vũ. The language barrier with international television makes me a more attentive viewer. As an actor, the barrier is easily overcome for me as facial expression and body language are universal. There are a handful of Vietnamese words that I understand, but I seem to have only learned the names of my favorite foods, like bánh bao and how to say "I love you."
Phở is an enduring fixture in Vietnamese and American culture. And with the bombastic popularity of sriracha, phở, too is on the rise in the West. Precious dishes like phở perpetuate an ever-evolving culture, and connect us near and far with our loved ones. For me, phở is a key artifact in my own love story, but the soup itself is a grand romance.
When I eat a bowl of pho, I think of Chau, of Vu, of unconditional love.